Bani
[...Real Dominican Republic Away From All Inclusive Resorts - Best Guide Online...]
General atmosphere / feeling of the place
Bani is a dominican town located on the southern coast, around 70 km southwest of Santo Domingo. I didn't like Bani that much, but mostly due to my private preferences; for other people these could be advantages of Bani, not disadvantages as they were for me.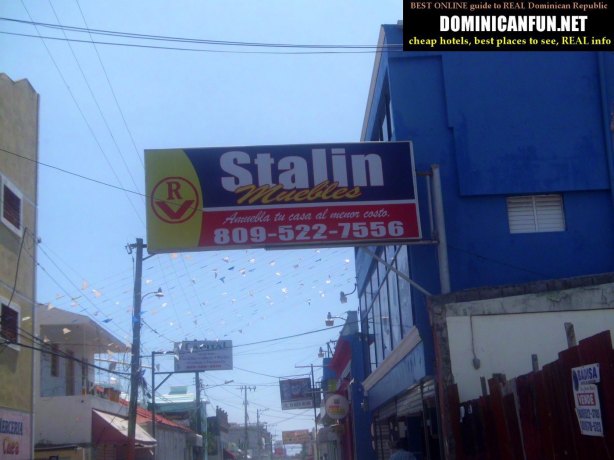 Do you believe in reincarnation ? Stalin, former Soviet leader sells now furniture in Bani, Dominican Republic.

I came to Bani somewhere in middle of 2013, when I was on the road to Barahona - from Santiago.  As you may imagine, it is quite a long trip for 110 cc bike, that's why I chose Bani as a stop for day or two...To just relax and calm down a bit, after such long ride. However, the problem was - that [...read more...]

In my opinion, Bani is too close to Santo Domingo to be free [...read more...]

Bani appeared to me as not [...read more...]
 CHEAP hotels in Bani / where to sleep
There are few cheap hotels in Bani. I came here quite late, and Bani was the only place in Dominican Republic where someone [...read more, 80 % of content inside...]
Ok, lets talk about cheap hotels finally. So here they are:

1. Hotel [...read more...]

2.There are also few [...read more...]

Things worth to see / do in Bani/ Best of Bani

Bani, as I said before, is a very busy city with good infrastructure typical for a city - banks, hospitals, cafes, supermarkets, shops with household goods etc.  5 km south of Bani there is [...read more...]

Desert in Dominican Republic - few dozens square kilometres of sand..and sand...and sand...

Around 20 kilometres to the west and south west of Bani, there are other attractions, that are worth one day trip. I'm talking about Las Salinas and beach Palmar de Ocoa. In Las Salinas, as the name says it in spanish there are salt mines and nice bay. There is also some kind of [...read more, 80 % of content inside...]

Somewhere on the Moon ? No, it is Bani, Dominican Republic

Like I already said - it is worth to visit Las Salinas. It is however a little complicated to get there from Bani - the road doesnt have good signs, and you have to ask local people.
How to get into Bani/ Roads Info 

The roads leading to Bani from Azua, Santo Domingo or San Cristobal are all expressways of good quality and in good condition. There is however one worse road , that connects Bani with [...read more...]
[...Get Access to the Full Version of the Site & Read The Full Article Here...]