Average daily budget $$$ in Dominican Republic

[...Full article has 2000 words. This is only preview. Get full access to the blog here...]
Like you may imagine, "average daily budget" will depend on a person and his/her needs. Money will be spent in different way by single guy who doesnt need that much or by family of 4 who need some comfort, "basic luxury" and peace of mind.
The same goes if you are visiting country for 2 weeks as a short term tourist, OR, staying in the country for the long time - like months and years.
Let's take for example me, author of this blog. I came to DR as long-term visitor (I knew it that I will stay there for months, and I knew exactly well what means, lets say 15$/day MULTIPLED by 250 days-so it's always good to save money) and a guy who doesnt need that much. Well, of course I needed things that everyone else needs - food, place to sleep/live and some way of transportation. But all of that didnt have to be in luxury, high standard- just simple, clean and safe hotel, some food (mostly not imported) and motorbike - not a car. I never tried to save money on food though - I've been always eating the food of good quality, because it was way more important to me than, lets say hotel room with air conditioning (which is unhealthy anyway, IMHO) etc. Well, to be honest - I wasnt saving on drinks too - as I always liked to drink some imported wine or two once in a while...
I made good decision of choosing my transportation method in the country - I bought myself [.. read more, 70 % of content inside...]

Having all what I wrote above in mind, I may tell you now about my daily budget in Dominican Republic. It was usually something between 800-1200 pesos/ day, which converts to 20-30 $ daily. With such budget I had: my own transport, basic yet clean hotel room, food - in big quantity ;-), some drinks once in a while and other ways of "having fun" too, like some smoke every now and then, and some female friend who needed some financial support - occasionally 😉

When I did stay in one place for longer time my daily budget was usually around 800 pesos, when I travelled and changed places every few days - it was usually around 1200 pesos/ day.
So, is Dominican Republic cheap or expensive ? For me - it wasnt expensive, but it was based mostly on my lifestyle. If [.. read more, 60 % of content inside...]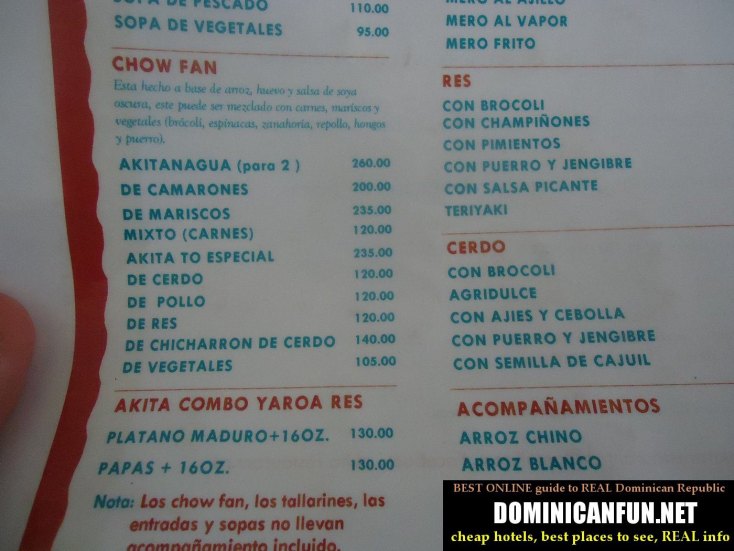 Menu from the basic, yet really decent restaurant in Nagua, Dominican Republic.
 Sample prices in Dominican Repulic, February 2015 (add around 5 % of inflation every year to these prices)

In February 2015 there were 45 pesos to 1 USD....

1 litre of gasoline premium - around 50 pesos, 1 galon of gasoline - around 190 pesos


galon of LPG for car - around 80-100 pesos


cheap, yet decent hotel room - fan instead of air conditioning, no insects, safe and secure - around 400 pesos


room for rent as cabana - for 2-3 hours of meeting with lover - [.. read more...]


nice room to rent in tourist city/ attraction (but not in Punta Cana and not in Sosua in high season) - [.. read more...]


dominican-style house for rent - basic and not so clean - [.. read more...]

totally awful room for rent somewhere in the middle of nowhere - [.. read more...]


nice 2 rooms flat for rent in tourist city (like Las Terrenas) - [.. read more...]


dinner in basic restaurant/ comedor - from 150 pesos to .... for 300 pesos you have usually something really nice to eat in tourist place


1 km of travel by minibus (gua gua) or bigger bus - around 2 pesos


mototaxi ride in the city - usually around 50 pesos


one minute of call in mobile network - around 10 pesos


one hour of internet access in internet cafe - around 30-40 pesos


good pizza - 250-300 pesos


fresh fruit juice - 30-50 pesos


fruit milkshake (batida) - 40-60 pesos


pack of cigarettes, 10 cigarettes inside - 65 pesos


bottle of basic yet decent imported wine from Chile - around 200-250 pesos


T shirt - from 150 pesos, usually it is around 300-400 pesos for new one from the shop


1 kwH of energy - from 10 to 20 pesos, in Las Terrenas it is most expensive


bran new chinese motorbike - around 40,000 pesos


brand new Yamaha or Kymco scooter 110-125 cc- [.. read more...]

used motorbike/ scooter in decent conditions - [.. read more...]


one day of motorbike rental - from 800 pesos/ day


laundry service (with drying) - 30 pesos for 1 tshirt, 10-20 pesos for boxer panties and socks, around 50 pesos for pants. Not so cheap like in South East Asia, here you pay not by 1 kg but for 1 piece.

one litre of milk - 50-60 pesos


one kg (~2 pounds) of fresh fish in "fish store" - around 150-250 pesos

pasta, portion for one person (in shop, to cook for yourself) - 15 pesos


dominican cafe - strong and small, with a lot of sugar - 10 pesos


cafe with milk in cafeteria/ bar - around 30 pesos and up

"normal" massage, 1 hour - usually from 500-600 pesos/hour. Service not so popular and available only in big cities and tourist places.


bottle of beer, 0,6 litre - 80-100 pesos


newspaper - around 20 pesos


dominican ice cream Bon (delicious) - from 60 pesos/ portion


Imported swiss chocolate - 150 pesos/ 100 gram


imported sausage from Italy/ Spain - around [.. read more...]


yoghurt - around 30 pesos


pineapple - around 50 pesos


big bottle of water (filling up of 5 galons=18 litres) - around 30-40 pesos.


mineral water 0,33 l - around 10-20 pesos

So, as you can see on the above examples, Dominican Republic isnt expensive at all (except electric energy, phone calls and internet access - they do cost more here than in EU). On top of that, all services here - like doctors, lawyers, mechanics, masseuses, whatever you name it - are few times cheaper than in EU or US. I remember paying the same money here for repairing the motorbike in DR, like I paid for some bicycle repair back in Europe...
Before I came to DR I was browsing Internet forums etc. searching for information on cost of living here in DR. So when I asked people from US, Canada or some Western Europe countries (except Dutch people,as they usually dont spend more than they need) IF it is possible to live here in DR for 1,000 $/ month, they were usually responding that it is not possible because they barely make it with 2,000 $/ month. You may judge it by yourself if they were right on this matter, looking at the prices posted above...
So here is my theory - you will spend [.. read more, 70 % of content inside...]

Most of the Dominicans live for 10,000 pesos/ month, which is barely 250 $ month. IF they have a job. So if someone says that YOU CANT live here for 1,000 $/ month - well,I call it total b...it
 To live a modest life here in DR, staying in one place (also in places like Sosua or Las Terrenas) and EAT well you will need around [.. read more, 90 % of content inside...]