[...Real Dominican Republic outside of AI Resorts. Best Guide Online...]
Hospitals - they are in each bigger dominican town. Their personel is usually [...read more...]

if you are tourist in Dominican Republic, of course - it's always nice to have medical insurance from international medical insurance company. If something bad happens and you have such insurance - you just contact your insurance company and they will tell you where is the nearest clinic in DR that accepts their insurance. If there is no clinic near you - just contact your insurance company, go to any private clinic, pay the bills with cash, collect the bills and insurance company will return you the money. I'm talking about private clinics here.
Inside dominican emergency. The same interior worldwide, similiar health promoting posters, regardless if its US, India, Germany or Dominican Republic....
If something bad happen, like accident, broken leg, strange ilness symptoms - and it's urgent - you just go to ANY dominican hospital, go to its emergencia and they will help you instantly.
Of course - the situation with hospitals and healthcare is the same like with dominican police - its better to not be in position to have to use it. Simply - its better to be healthy.
 Hotel Room - you already know in what kind of hotels I've been sleeping in Dominican Republic. Thats right - in the cheapest ones. So what exactly do you get for such price in DR ? Basically the same things like in every hotel - [...read more...]

Hotel room without my bike inside 😉 .please note that the bedstead is painted on the wall - but the bed still does exist 😉
So when you are in the hotel in Dominican Republic, it actually doesnt matter if the room costs 10,20 or 50 dollars per night - it's always nice to check few things before chosing your room:
[...read more, 80 % of content inside...]
Hotel room with my bike inside...

 Internet access - despite the size of the Dominican Republic, which is relatively small - like the Netherlands for example, DR doesnt have good internet access. I wouldnt even call it "decent"...
For example, to get [...read more, 80 % of content inside...]

So what speed can you get in average internet cafe in Dominican Republic ? Usually it is not more than 2-4 mbps shared on 10 or 12 computers...so do the math.....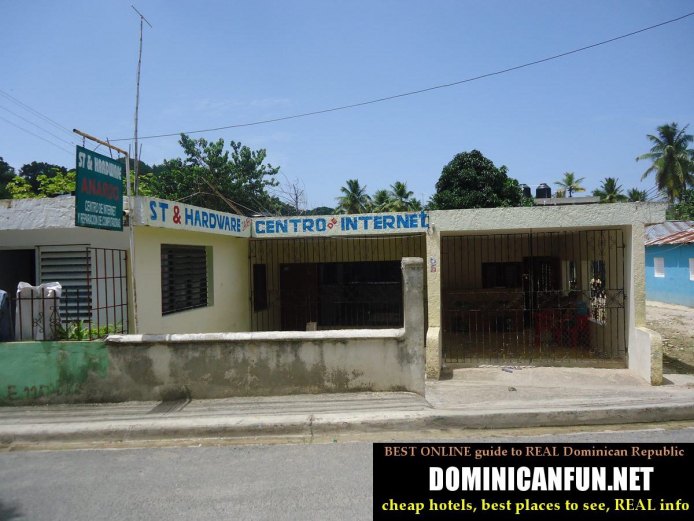 Centro de Internet, Dominican Republic
One hour access of the Internet in centro de internet is usually anything between 25 to 50 pesos. Usually THERE IS NO WIFI IN THE CHEAPEST HOTELS in Dominican Republic; if you compare it with situation in South East Asia - Dominican Republic has a lot to do in this case...Of course - there are some exceptions from this rule - I checked out around 30 cheap in hotels in the whole country and internet wifi was in [...read more, 60 % of content inside...]

The other option is: to use mobile internet from Claro or Orange. Well, [...read more, 70 % of content inside...]

Laundry -doing laundry is not so cheap actually in Dominican Republic. I mean - laundry of the clothes, not the money - some people say that laundering money in DR is really easy and effective. 😉 But let's talk about doing laundry of the clothes.
if you are tourist without the house and without the washing machine, you have few options to wash your clothes:
[...read more, 80 % of content inside...]
Laundry service in Dominican Republic - lavanderia.
Massage -Dominican Republic is not a Asia, and you can rarely find here massage service (in asian countries like Thailand, Malaysia and so on - they are in every town...) So while it's not always possible to get massage in typical dominican town - you can always spot some massage services in tourist places and in biggest dominican cities - like Santiago or Santo Domingo. What I'm talking about here is the normal massage - not the happy ending massage or special massage service (I will talk about it later).
Sometimes you can also ask ladies working in beauty salon (centrum de unas) in dominican town (and these beauty salons are everywhere - Dominican girls love to spend money on their hair and so on). One hour of massage in Dominican Republic usually cost around 500 pesos, and the quality of the service is nothing to brag about.
There is also of course a possibility to get the "other" massage treatment [...read more...]

 Mechanics - in Dominican Republic they are VERY CHEAP. Cost of the motorcycle repairs here are [...read more, 80 % of content inside...]

Each young dominican knows how to repair motorcycles here. So its not hard to get help for your motorbike in any given moment, even far away from everything. Motorcycles are widely used here by everyone; and repaired and redisgned also...by some young Dominicans.
Mechanics in Las Terrenas. Hard deserved break in work.
 Mobile Networks - there are few mobile operators in Dominican Republic: Claro, Orange, Viva and the fourth one which name I dont remember actually...To get SIM card from any operator - even the prepaid, you have to show your passport. The SIM starter card usually cost around 100 pesos; the cheapest mobile phone around 800 pesos.
Now, if you compare the prices of calls in Dominican Republic with [...read more...]

 Nature - is truly amazing in Dominican Republic. Country has it all: ocean access, sea access, lakes, mountains, bush,steppes and even the desert. If only the Dominicans would know how to respect it...And if only the tourist/ visitors would know that too....That's a long story actually, and very often - sad story.
National Parks -there are more than dozen National Parks in Dominican Republic. They have one purpose - to protect country's nature. Actually almost every dominican province has its national park, which says a lot about country's diversity... Some of the parks are located in the mountains , some of them [...read more...]

National Park in Maimon, Hatillo Lake. Now the real and sad question is: What the heck Barrick Gold does there ? Go and see for yourself...:-/
[...Join Now and Read All Articles About Real Dominican Republic...]