[...Living & Travelling in Dominican Republic with less than 1,000$/ month...]
Pleasant daily life in Enriquillo. Not that much happens - or should I rather say - nothing happens at all. But like they say - no news is a good news. So I am here. Relaxing and enjoying every day in this beautiful area. The nearest city with ATM - 50 km from here; nearest market with imported food products - also 50 km.
So I live here in Enriquillo, enjoying the views and spending a little.And I like this simple life.
One day I see how the lady from colmado here taste liquor Malibu during "hours of her work". I ask her if its "allowed" to do so...She says that's not a problem at all...We laugh...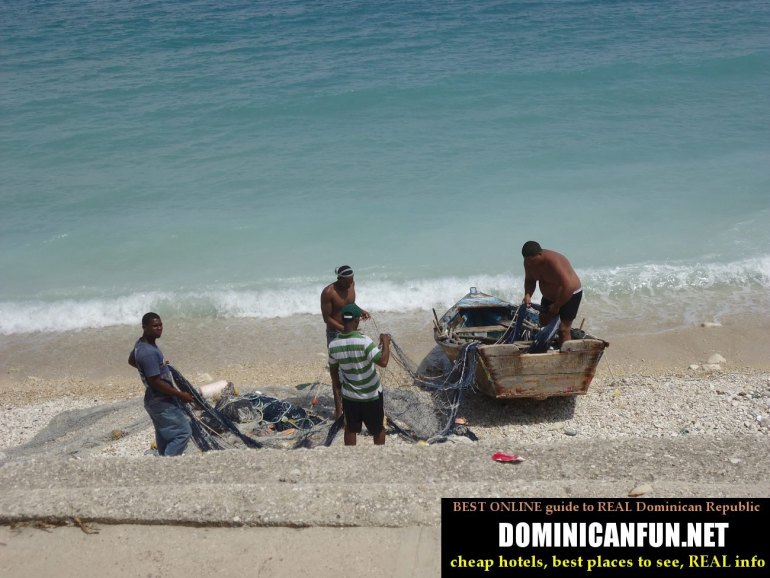 Fishermen, Enriquillo...
F. shows me some "swimming pool", made by local people from the local brook. Great thing during the hot days. Total refreshment in really COLD water.
Power outages once again. They are fixing something once again and cant fix it at all...I dont understand this country. How the heck they are fixing the power cable regularly every week and can't fix it at all ? Is it made from paper ? There are always reasons in this country for not working infrastructure: it was raining, the wind was blowing etc. etc. XIX century in Africa, that's what it is...
Anyway - I like it here. Average daily budget these days - 20 usd. Peace and quiet. Small town by the sea. Italian guy with his pizza. Fresh cooked fish. And I even got my own kitchen, so from time to time I may cook myself some pancakes..
[...Backpacking & cheap living in Dominican Republic - Best Online Guide...]