Beaches in Dominican Republic
[Full article has 2500 words, this is only preview of 1000 words. Read the full article here]
Below I'm describing all beaches located on the Dominican coast.
So every one of them is really nice, but - like everywhere and with everything -  there are good and better ones ...I have mine private top: beaches in the Paraiso and Enriquillo region (Barahona province), beaches in Samana region (especially in Las Terrenas) and beach in Monte Cristi, with beautiful view of the cliff rocks.
Whole Dominican coast - which means north, east and south of the country is rich in beautiful beaches where you can enjoy sunbathing, some swim and relax. Big part of the dominican coast is unavailable though - due to [...read more, 50 % of content inside...]

Unfortunately there is also another issue connected with beaches in Dominican Republic - trash. The sad rule is easy - if this is not typically tourist beach (which means - managed, administered and cleared regularly) and if it's regularly visited by Dominicans - usually it will be always polluted with trash. Which means - papers, plastic bottles, plastic bags - all together or separately. Usually it's not something REALLY HORRIFIC, but it totally ruins visiting such place and seeing it devastated like that. So the beaches in typical tourist areas - like in Sosua, Las Terrenas are looked after and cleaned after by someone - so they are (almost) always totally clean in 100 %.
There is a law in Dominican Republic - like in many countries, saying that all beaches are public - so its not possible to just limit access to ocean, sea, coast and its beaches. There are few [...read more, 70 % of content inside...]
Like I said - we can divide dominican beaches by naming them "touristic", in tourist places and "normal",in not so popular tourist destinations. Among these "normal" beaches, which are usually polluted - there are some that are not polluted and generally speaking - ready to swim and lay down on them without any further problems. I will describe all of them below. I visited around 15-20 beaches when I was in Dominican Republic. Some of them were nice, some of them just beautiful and some of them - not worth a visit. So here is a description of Dominican beaches, starting from the north - west of the country.
A) Monte Cristi and el Morro beach - astonishing views (cliff rocks and beach located down in the alley). Said beach is [...read more, 50 % of content inside...]

Monte Cristi, beach ! 😉
Monte Cristi - el Morro beach, once again.
B) Sosua = playa Sosua and playa Alicia. On the first one - "main Sosua beach" - there are [...read more, 80 % of content inside...]
Sosua and one of its beaches - Sosua beach. With a lot of bars, restaurants and shops.
C) Cabarete and Cabarete beach - the beach with many bars and [...read more, 90 % of content inside...]

Cabarete beach. Lots of bars, and they are all rather expensive...Judging by Dominican standards
D) Rio San Juan and playa Grande - nice beach, although with REALLY DANGEROUS waves and tide. There are some cliff rocks here, almost like in Monte cristi. There is a big parking in front of the beach. The beach is located around 5 km from [...read more, 50 % of content inside...]

Playa Grande, Rio San Juan
E) Nagua and its surrounding beaches on the coast - there is like 30 km of beaches when you go from Nagua in the direction to Samana. The problem is that many of them are [...read more, 70 % of content inside...]

Typical "paradise" landscape. Beaches around Nagua, Dominican Republic
Beach near Nagua. A little polluted, like often in DR
F) Las Terrenas and its beaches - Bonita and Portillo. Real top of Dominican Republic beaches, despite its commercialized character. I would say that here - such character is actually something good and all of it is done in good way.
The sandy beaches in Las Terrenas are [...read more, 90 % of content inside...]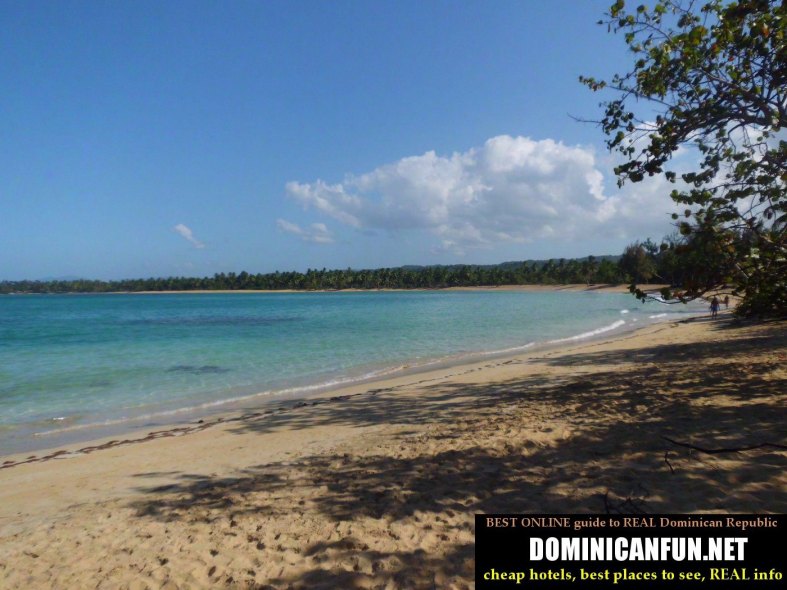 Las Terrenas and Playa Bonita. As for me - best beach in DR not "all inclusive". This is where I've been spending pleasant mornings, afternoons and sometimes even evenings....
G) Las Galeras - playa Las Galeras and playa Rincon. In Las Galeras, dominican village located at the end of Samana Penisula, [...read more, 80 % of content inside...]

Beach in Las Galeras
And as for the Playa Rincon, which is said to be [...read more, 80 % of content inside...]

H) road leading from Samana to Las Galeras - despite actual lack of beaches, I highly recommend driving there. AMAZING, beautiful views of the coast with the cliff rocks. Near the Samana city there are some small islands, and you can get there by boat. There is also one VERY expensive hotel on one of these islands - around 500 $/ night...Ideal place for romantic weekend, I guess.
So this is what you'll see when you'll drive from Samana to Las Galeras. Dont forget to take a stop every 5-10 minutes and make a lot of photos...Its worth it !
I) beaches around Bani town - nothing special actually. Playa Bani is [...read more, 90 % of content inside...]

Beach in Las Salinas Bay, Dominican Republic. Nothing special, but always something nice....And the bay itself is not that bad at all
J) Azua and surrounding beaches (Monte Rio and Caracoles) - just like in Azua - nothing special actually. Worth visiting only due to the fact that its [...read more, 90 % of content inside...]

Azua and its beach. Still "under construction"
K) Beaches of the Barahona province – playa Saladilla (near Juan Estaban), beaches in Los Patos and Enriquillo - my favorite beaches that are in my private top3 of beaches from the whole Dominican coast. Barahona province is quite secluded and far-from-everything place. So if you are looking for some wild DR, not spoiled with the mass tourism, with beautiful Nature, picturesque views, small density of the population - that's the place to be in.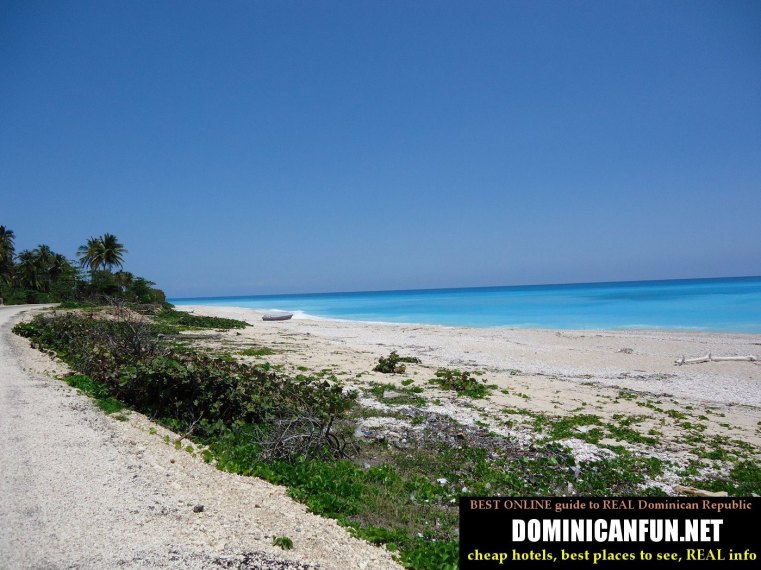 Around Los Patos and Paraiso. Real paradise ?
Beaches in Barahona province are [...read more, 80 % of content inside...]

Saladilla beach, Juan Esteban. Around 10 km south of Barahona
San Rafael Beach - really, really [...read more, 80 % of content inside...]

Beach in the Los Patos - rocky beach, with sloping shore and big waves (which is also typical for beaches in this province). Near the beach there is [...read more, 70 % of content inside...]

Los Patos beach. Like everywhere in Barahona province - instead of sand you have stones and rocks here.
Beach in Enriquillo - rocky beach (like in Los Patos). A little polluted with trash, but its nothing tragic. And once again - high waves and dangerous sea. During the [...read more, 70 % of content inside...]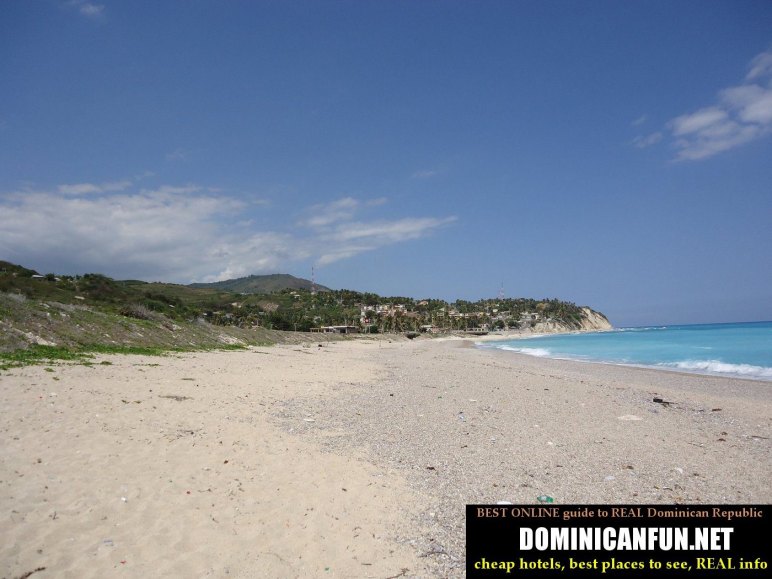 Enriquillo and its beach. I was living in this small dominican town - and loved this place
There is also Bahia de Las Aguilas - in Pedernales. Unfortunately I wasnt there, as this place is located at the real "end" of Dominican Republic, far away from everything - and I simply didnt have time to visit it (believe it or not). But if you have time, will and money - go there, rent a boat with guide and enjoy dominican beauty - in probably most beautiful of dominican bays.