[...Get Full Access to The Guide And Discover Real & Cheap Dominican Republic...]
Farmacy - in spanish it's called la Farmacia. Farmacies in Dominican Republic are easy to find almost everywhere, but the real problem is - what they have inside. And usually [...read more...]

Dominican drugstore - farmacia. Not so many things inside....
The good thing about dominican farmacies is that they are well equiped with generic drugs, which are basically exact copies of some "brand" medicines. So if you are in need to buy [...read more, 80 % of content inside...]

Ferreteria - it's the hardware store, or Do it Yourself store. Here you can buy anything that you may need to build house, do some basic repairs, buy some paints for your house etc. Ferreterias in Dominican Republic sometimes also can copy the keys and offer many other services in the repairs/ constructions jobs.

Ferreteria, Dominican Republic
 Fruits - there are many fruits to buy in DR. There are also some imported ones (for example apples from US which all look the same, like some kind of GMO clones...), but very often these imported ones can be surprisingly expensive here....Sample dominican fruits: papaya, mango,melon, lechoza,guineos (bananas), chinola (passion fruit), guayaba, coco, sandia (watermelon), pina (pineapple) and so on... From most of these fruits you can buy fresh and cheap juice - for around 30 pesos/ glass.

Street vendor selling fruits in Dominican Republic
Guns - guns are quite widespread in Dominican Republic, but you wont see them that often in public. Anyway - they are for sure more visible here than in [...read more, 60 % of content inside...]

Italians - among the foreigners who live in Dominican Republic there are many Italians; actually I would say that its one of the biggest expat groups in DR. They seem to blend in very easily, due to similarity of their language and their culture to dominican one; they also dont like order that much, like to drink coffee, are quite noisy, love to talk and so on. The one good thing about Italians living here is that they usually [...read more, 50 % of content inside...]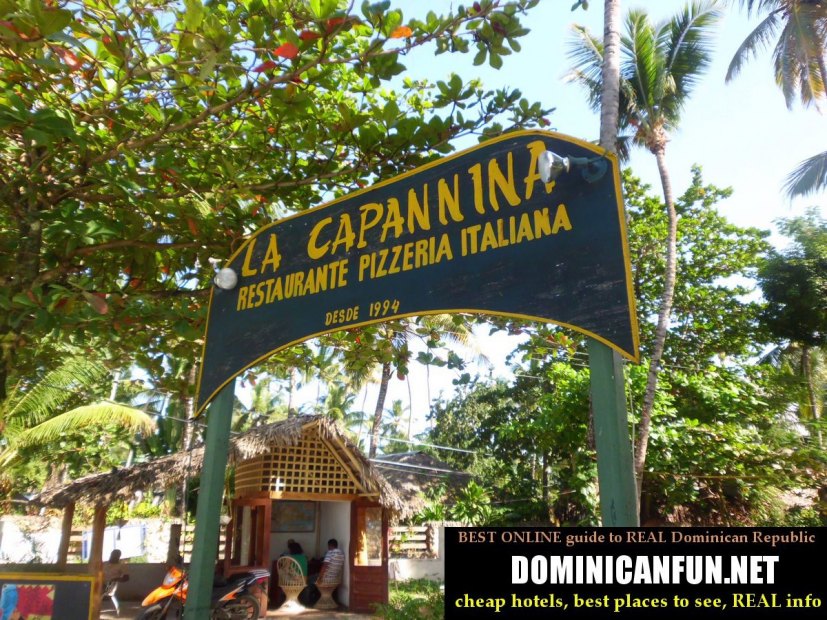 "Italian job" and italian business - restaurant in Dominican Republic
Lawyer - in Spanish its abogado. That's the profession surprisingly popular here in Dominican Republic. Even if you are in the smallest dominican city or some town - there is a big chance that there will be a "oficina de abogado" over there.....

Malecon -malecon its the walking alley on the seaside in the city. Kind of parallel to the sea walking alley, where you can enjoy the sea breeze and fresh air. Unfortunately, dominican malecons are just another manifestation of dominican "culture" - and they are heavily polluted with trash.

Mosquitos -small anoying insects that will bite you everywhere where its possible and sometimes - infect you with some serious disease, like dengue or chikungunya. The best is to avoid any mosquito bites to avoid infection; the bad news is that those who transmit these 2 serious diseases - usually do bite during the day....So I really doubt that you would like to dress your long pants always here - and that's the best way to avoid being bitten by mosquitos.
Motoconcho -it's the motorcycle taxi in Dominican Republic, and the guy who is driving it - is el motoconchista. 99 % of motoconcho drivers are male; and they are everywhere in Dominican Republic, as it's most [...read more, 80 % of content inside...]

Motoconchos in Dominican Republic. Guys who drive around and know everything about the town
So what kind of money can make motoconchista in Dominican Republic ? I would say that most of them dont earn more than [...read more, 80 % of content inside...]

Some of mototaxi drivers have special clothes with identyfing numbers; but most of them dress just casually. They usually stop in the special areas, something like "station" of mototaxis. But usually they just drive around the city and look for the clients; if you are in need for motoconcho just wave the hand, he will stop, tell him where to go, ask about price before and thats all.Good motoconho guy is just like the taxi driver who "can manage everything that you want, sir". But its better not tu buy drugs from them.
I would say that 95 % of mototaxi drivers are just honest (similar rate like with all Dominicans that I met so far) and you dont even have to ask for price before you go. But - it's always better to ask before to avoid any potential misunderstanding.
Motorcycles - basic transportation method in the tropical Dominican Republic; every family has a bike here - there are few milions motorbikes here on the island. And its nothing really strange about it - with such temperatures,no winter - motorbike is a ideal way to get around on this small island. It doesnt mean however that cars are not existent here - there are also many cars, which in fact are much more comfortable and suitable for long distances and for travelling with children and so on.

So what kind of bikes do Dominicans drive ? These are mostly chinese,and taiwan produced 100-150cc bikes, and some of other, better brands, like Yamaha or Honda. Dominicans are not so lucky like for example Thai people are, there are no factories of Japanese brands like Honda or Yamaha here. But the bikes here are still very cheap, same like all parts for them. I would say that if you are not looking for some brand big engine bike, you will pay here [...read more,  75 % of content inside...]

Let this picture be a symbol of dominican crazy driving. Motorbike somewhere in Monte Cristi, Dominican Republic
Like I said before - Dominicans know bikes and know how to repair them. They are true hackers of the two wheels. And the costs of the repairs here ARE SO CHEAP that's just incredible. Prices of the typical bike repairs here are around [...read more, 60 % of content inside...]

[...Over One Year in Dominican Republic, 12,000 KMs on the motorbike = Best Guide to Real Dominican Republic...]