[...Cheap Living & Travelling in Dominican Republic - Best Online Guide...]
Time to go once again. So I'm leaving Nagua and going to Samana Penisula, all according to my plan. Just after the Sanchez I take the turn to Las Terrenas. The map shows mountains of around 500 meters above sea level. Nothing that high and big, right ? Only on the map. In reality - the road is really winding and with a lot of curves. Damn, my back ! Once again. Car would be much more comfortable...Or at least bigger bike...
So after over 10 km of really winding road I am finally in Las Terrenas. At the first sight - place look really busy. Many cars and motorbikes and two main one way streets. Hell. Noise and crowd..Lot of tourists on the quads. Too many people in one place..Or the place is just too small for so many people. Thank god that it's like that only on the main streets here, because the beaches - are much, much better.
Beach in Las Terrenas, Dominican Republic
So I visited the two beaches - Playa Bonita and Portillo and they are all beautiful. Despite the fact that I found out some place to sleep for under 10 dollars/ night, everything in Las Terrenas seems to be more expensive than in rest of the Dominican Republic. Just by little and just some things - but still. On the other hand - there is good infrastructure here, like restaurants and bars and very often it seems that there are actually more bars than customers - the competiton is big and you can find some really cheap restaurants here with good food.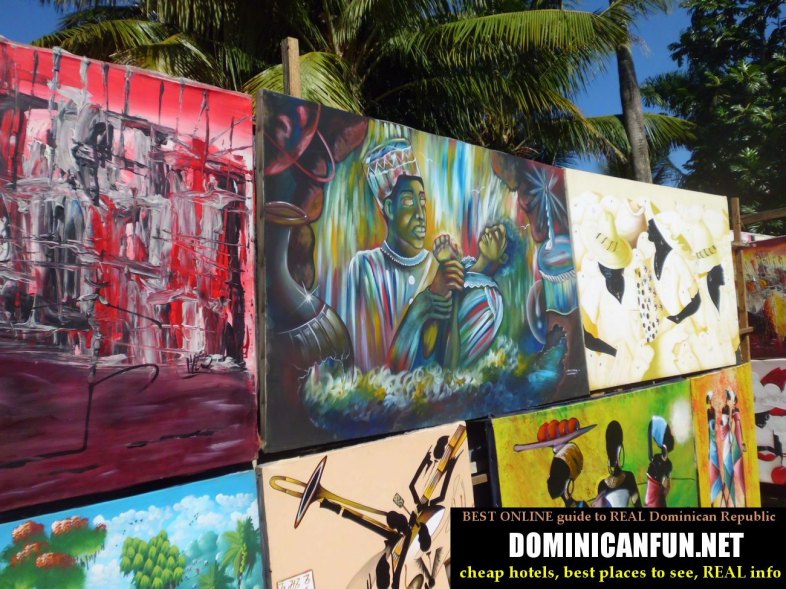 Las Terrenas - paintings for sale. Arent they nice ?
There are many Italians and French people living in Las Terrenas - they have houses near the beach and many of them have local businesses - like restaurants, shops etc. And most of these businesses seems to be empty actually, which makes you think - are they real businesses or just laundry of the money ? Sadly, it's probably the first option - there are not so many tourists here.
And the hotel which I found ? Ideal for single male traveller with his own transport 😉 Newly built and newly painted, around 2 km from the beach, nice, clean, safe and quiet. Bed, fan, bathroom, some chairs and wardrobe - why would I need more and why pay for more ?
Las Terrenas - cheap hotel
Sometimes its difficult to tell if Las Terrenas is actually still part of Dominican Republic - there are so many foreign businesses and restaurants here. Even the local newspaper is printed in Spanish, Italian and French...
Today I went also to el Limon - which is around 15 km from Las Terrenas - to see its waterfalls. I got "offer" to actually not climb by foot to see waterfalls but to rent a horse and go there like that - but they quoted me 40 usd for around 2 hours of such trekking..Which is actually more then my daily budget here in DR so I refused. So I finally climbed by foot to see waterfalls which are nothing special at all (if you have ever seen waterfalls in your life) - and the climbing up/ walking was also nothing difficult...
[...Best Online Guide to the Real Dominican Republic - Get Full Access Now...]