[...Living & Travelling in Dominican Republic with less than 1,000$/ month...]
In Barahona province
Barahona is a south-western Dominican province. Located too far from Santo Domingo to be bothered by the "problems of the bigger world". It is also not so organised to be new tourist Punta Cana - while it has all big advantages of being top tourist destination in Dominican Republic.... Beaches and landscape here ? Something really beautiful. I havent seen beaches so pristine and clean like here , nowhere in Dominican Republic - except Samana (Las Terrenas) and Punta Cana/ Bavaro area...
The beaches where you are actually very often the one and only guest - until 5 pm, when all people will come back from their work/ school and start to enjoy their coastal area...Mostly - dominican families.
So I'm here now, I live in Enriquillo and I love this area. A little secluded - hidden gem of Dominican Republic !
I drive in direction to Oviedo. What's around me, on the road and in the fields ? Grazing cows, horses - that's on the one side of the road..On the other, opposite - sea of cyan color...Somewhere on the horizon - HUGE windmill generators, big like some kind of monsters from the future...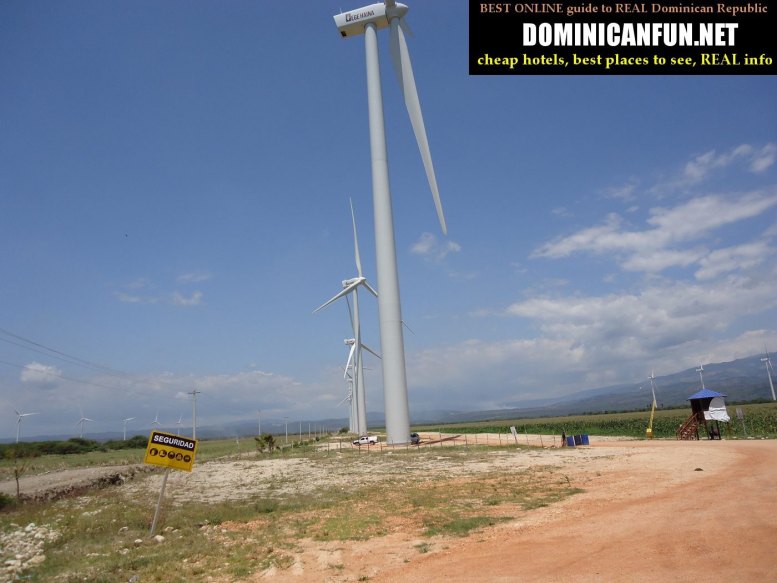 Windmills - generators. Power generating monsters
As for now - Barahona is the most beautiful province of - generally beautiful too - Dominican Republic..And that says a lot, dont you think ? Secluded beaches; whole area is ideal to easily enjoy the contact with dominican nature...
Few days later
Enriquillo and its area is indeed the paradise for the eyes and its great to love here, BUT - unfortunately do exist here some problems typical for Dominican Republic. And here they are just biggest - things like [...read more...]  
[...Backpacking & cheap living in Dominican Republic - Best Online Guide...]