[...Best Online Guide to the REAL Dominican Republic,period...]
I'm once again in Sosua. I found some cheap room for 400 pesos/ night. Here this price is a "cheap offer", while in the rest of the country - it is standard (in that hotels quality) or sometimes even something considered as "expensive"...
In the place where I live, live also "working girls" - prostitutes. They arent afraid of any men, but of some work - it seems that they are...
I asked one of them if she would like to do my laundry for standard dominican price, which is up to 150-200 pesos. The girl says that she wants at least 500 pesos. ha ha. I joke to myself : "thats the ideal of the lady, ideal wife just waiting to be picked up by some man". 12 usd for half hour of work ? That's something VERY UNCOMMON in Dominican Republic. Especially for such simple job as doing laundry. Ok, but lets leave all this money counting stuff.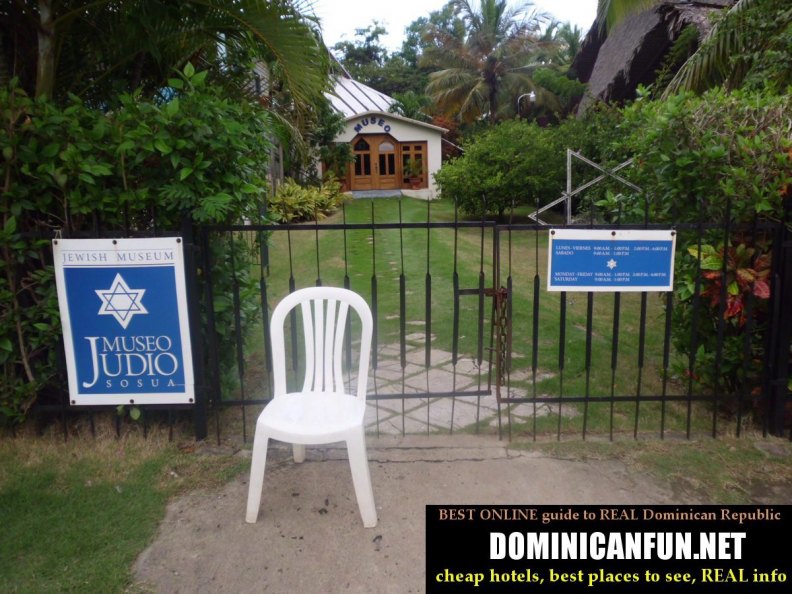 Jewish museum in Sosua. Believe it or not, but there are not only hookers in Sosua 😉
I met some Austrian guy here in Sosua. I offered him a ride to the hospital - around 1 km. He looks kind of twisted and strange - maybe he is ill witth some tropical disease ? Like amoeba eating brain ? ha ha, who knows. Anyway - he tells me his story. One Haitian guy that he knew and with whom he was living, stole his backpack with all his documents and so on. He tells me also the other story about his other friend, Dominican. He was supposed to help Austrian guy and drop him to Puerto Plata. And he did. The problem though, layed in details - as always. Dominican guy's motorbike was in total disaster state. It took them few hours to drive 40 km. Motorbike had problem with gears, brakes and literally - everything. So I ask the Austrian guy why the hell he didnt took bus for 50 pesos ? He answered that he prefers to ride by bike and "feel the wind and adventure", like he said. So he got it for sure, I think to myself...;-)
[...How to Live & Travel in Dominican Republic Under 1,000 $/ month - all info inside...]