Cabarete
[... Get Full Access to The Guide & Discover Unseen & Cheap Dominican Republic...]
General atmosphere / feeling of the place
Cabarete is a town/ city located on the northern coast of Dominican Republic, just 15 km from other famous destination for the tourists on the northern coast - Sosua.
Cabarete is also well known as "capital of windsurfing" in Dominican Republic - they say that it has the best combination of wind, ocean waves and ocean driffs. And that makes Cabarete the mekka of the surfers in DR.
So you may find a lot of [...read more, 60 % of content inside...]

So I was in Cabarete few times already - last time when I was there, I just wanted to leave it as soon as possible. Too [...read more...]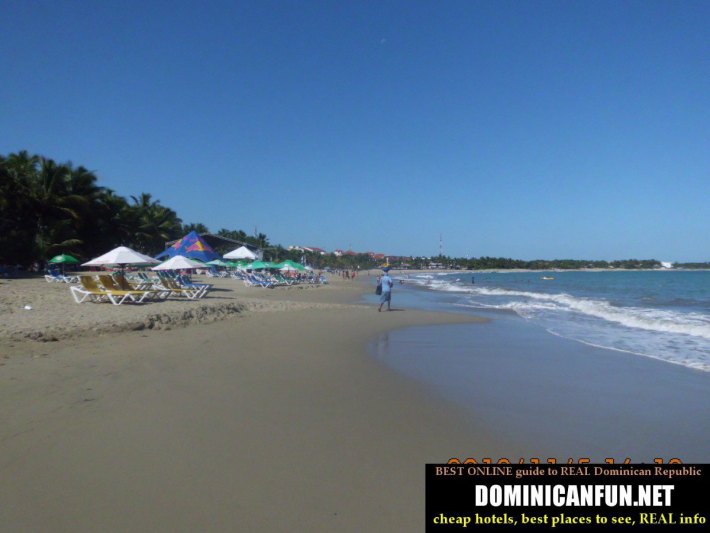 Cabarete beach. You may spot on the second plan lady selling fruits - there are dozens vendors like her on Cabarete Beach.
CHEAP hotels in Cabarete / where to sleep
Well, I always visited Cabarete just for few hours, that's why I didnt look for any place to sleep there. What I saw however reminded me quickly that Cabarete is a typical "tourist ghetto" , like Sosua or Las Terrenas. Which means - [...read more, 60 % of content inside...]

Things worth to see/ do in Cabarete/ Best of cabarete
Windsurfers and other "watersport" lovers will find Cabarete amazing. Ideal conditions for such activities. There are also some young people from all over the world in here - so it may be a good place to meet new friends etc.
When it comes however to Cabarete beach, for me it was [...read more...]
In Cabarete there is also good bakery (finally, at last...something better that dominican - so called - bread.), and [...read more...]

Getting into Cabarete/ Roads Info
Cabarete is a small coastal town, located on the - always busy - road no 5. So imagine [...read more...]
Anyway - that makes also Cabarete very well communicated with the rest of DR and the other cities from northern coast of Dominican Republic. So if you dont have your own transport - you will always find gua gua, bus, taxi or motorcycle taxi that will take you to the place that you want.
Oh...and...Road no 5. is in decent condition.
[...Best Dominican Republic Attractions & Living Here Under 1,000 USD/ month - All Info Inside...]